Hybrid American Chestnuts grown in Norway (zone 7)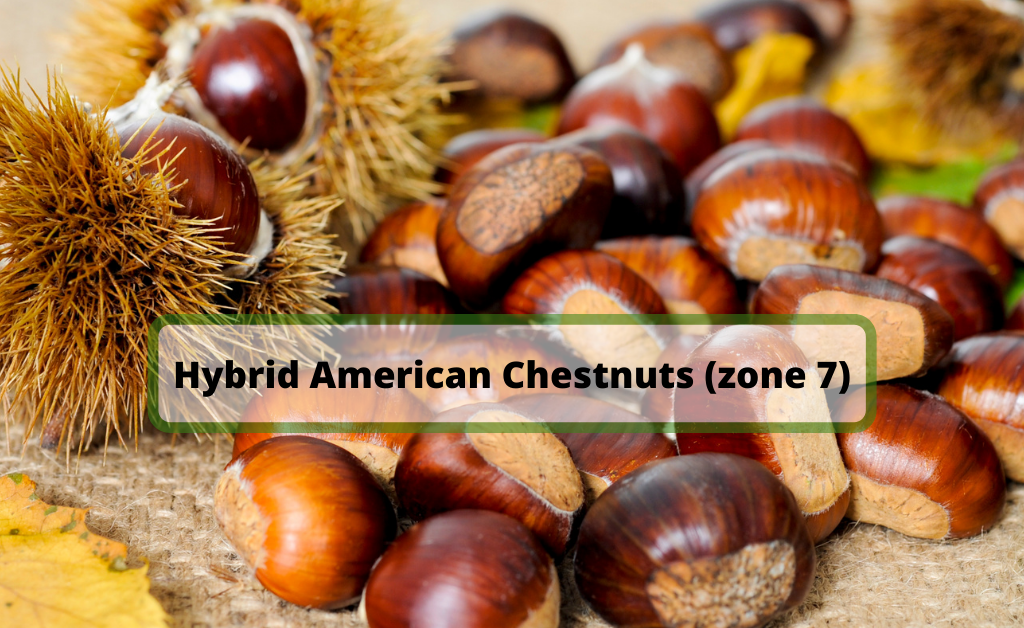 In Norway, where I live, one will not find edible chestnuts in the wild, they have not been naturalized … yet.
I was doing some research into what trees I could plant in our garden that were uncommon and several mentions of the American Chestnut Blight crossed my paths. This caught my attention for several reasons, apart from the fact that I presumed I could manage to grow them here and I wouldn't mind another source of food on our property that is naturally gluten-free and I'd really like to have some trees that can give me shade on our property in the summer time.
There are four main species of chestnut tree:
| Chestnut species | Latin |
| --- | --- |
| American | Castanea dentata |
| Chinese | Castanea mollissima |
| European | Castanea sativa |
| Japanese | Castanea crenata |
What benefits are there with Chestnuts regarding health and nutrition
The flour made from chestnuts is naturally gluten-free and for me this is one of the biggest appeals.
Living in a temperate climate (USDA Zone 7) where we can't grow any citrus fruits, having access to chestnuts would be very good as chestnuts actually contain a lot of Vitamin C (44%) of your daily intake of vitamin C (Source https://en.wikipedia.org/wiki/Chestnut)
So if I can get some of my chestnuts to thrive and produce nuts for me this would be something I'd really look forward to.
The very first nuts of Chestnuts I imported were from the Dunstan variants of Hybrid American Chestnuts, probably not true to type, but the nuts were from original Dunstan Chestnuts.
Those trees seem to be growing to be a wide canopy type of tree.
The second batch of American Hybrid Chestnuts I got was from a seller that said they were from trees that were quite old, that had no signs of Chestnut blight, and were thought to have been from an early attempt to produce hybrid Chinese/American Chestnuts.
Most of them grew really, really straight and long (almost 1 meter indoors before I took them outside).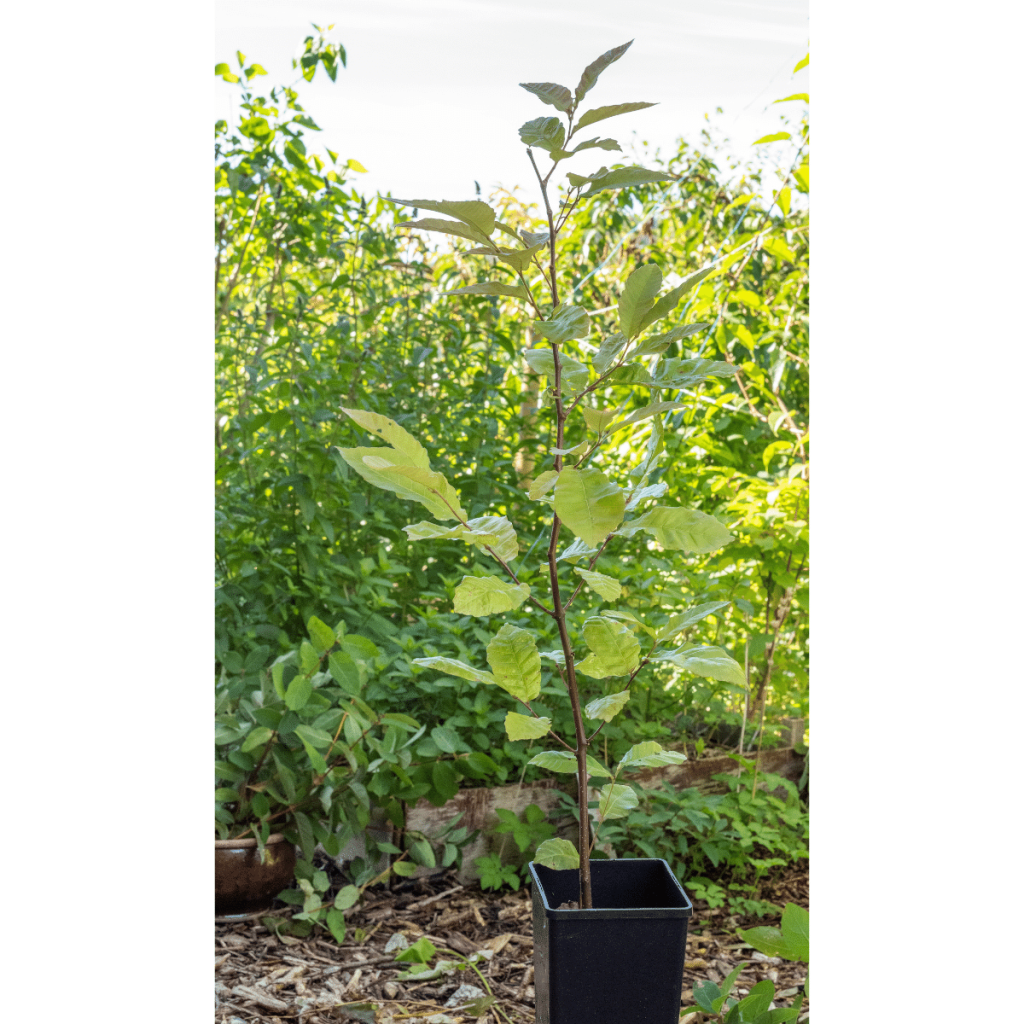 A couple of them turned out to get a bushlike shape.
Those I've planted in a beech hedge behind our house. Very curious how they will turn out.

Other Chestnuts I've tried
Dwarf Chestnuts (Castanea pumila)
In addition to the different hybrid American Chestnuts, we have grown and planted some Dwarf Chestnut, American Chinquapin from seed and it looks like at least one of the two trees (bushes) has managed to survive the crucial first winter. I hope I will manage to get more seed nuts, but there are so few sellers online, probably because they germinate so quickly that their roots might develop too quickly so transport might be an issue. The ones I received had this issue and the seller said most of it must have happened during the shipment. If I can get my hand on more of them I will certainly order more.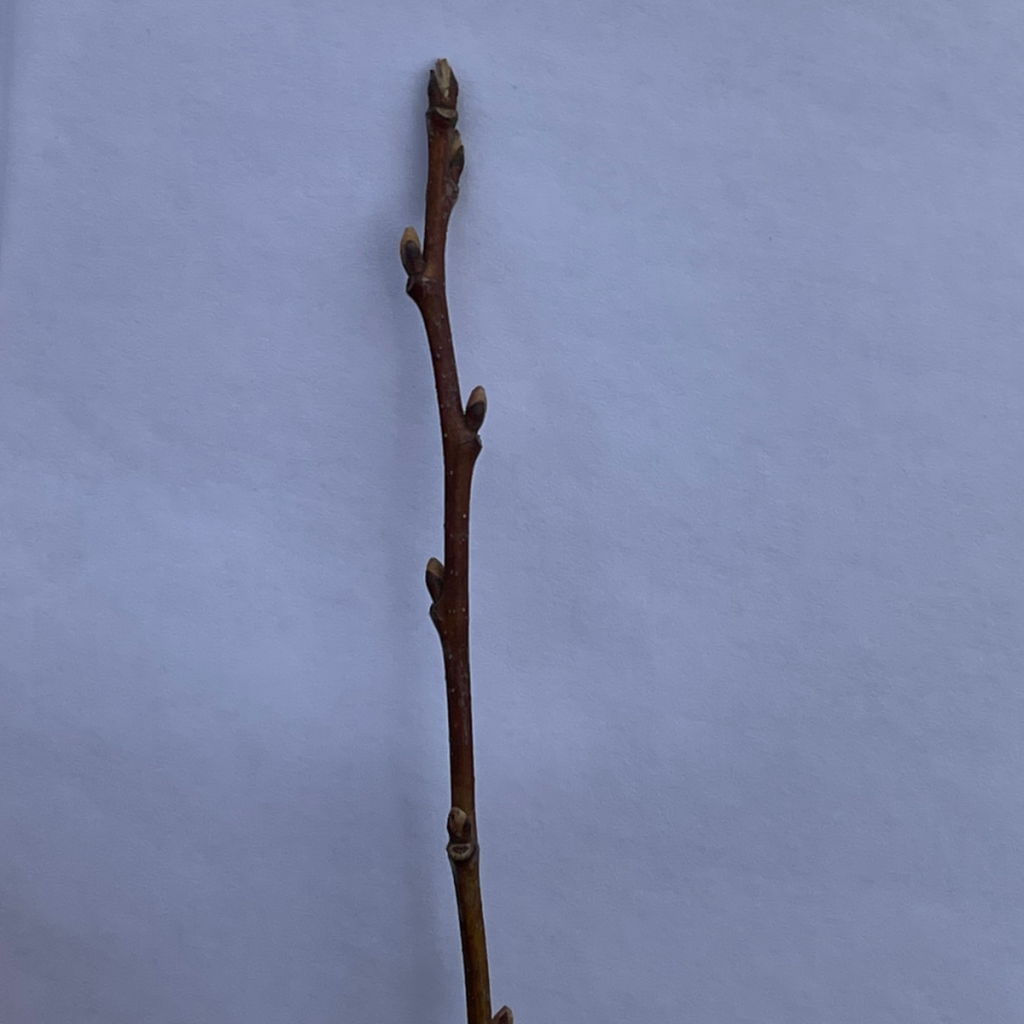 Sweet Chestnuts (Castanea sativa)
The seemingly natural variant of chestnuts that I should have succeeded with would be the European Chestnut (also known as Sweet Chestnut, Spanish Chestnut, ). I have tried to germinate them 3 seasons, with nuts bought from several European sellers, but so far none of them have successfully germinated.
I will give it another go this winter, and if I don't succeed in getting good, healthy nuts I will try to find someone that actually sells them as trees, but as far as I know, there is no one that has them near me.
Update:
Castanea sativa (Sweet chestnut) sapling Europen seller found
Was looking on eBay if anyone had nuts for sale yet, and I came across a seller (link to their eBay account: https://ebay.us/ZJO4Fc) in Portugal that could ship sweet chestnut saplings. I was actually shocked how well they were shipped. If I ever start selling seedlings and saplings I will do the same.
One of my new sweet chestnuts I've transplanted, one I have put in a pot outside and one I have taken indoors as a backup. It has been a long, hard struggle to get this and I will not risk a very hard first winter to kill them all.